Farida is the new kid in town and it's time to pay attention before he steals your lunch money.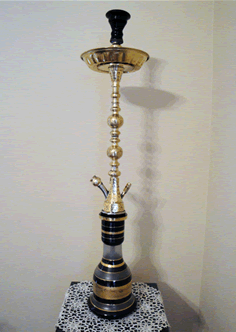 Specializing in brass and wooden hookahs, this is a fairly young brand out of Egypt that is meant to compete with the more senior and more popular brands. The unique designs and highly detailed nature of the stems make them a great hookah for those in love with the Syrians of days gone past. Hookahs of this style have been lacking as of late because of the conflicts affecting Syrian exports, but the Egyptians have been dabbling in Syrian style hookahs for a while now and someone was bound to fill the void.
One of the main selling points of Farida is that they have a ridiculous number of different models and they are willing to ship them all to the US. Some of you may not know this, but Khalil Mamoon produces more models of hookahs than you will ever see and that will never leave Egypt. Vendors state side are pretty limited in their selection and that's why we only get the same KM models circulating around until they decide to give us something new. Farida is opening the flood gates and there are more models available every day with something to tickle even the most fickle of palettes.
Many companies are snatching up any Farida models that they can get their hands on and these range in size from a "mini", which is about the same size as a KM Beast, all the way up to the Royalty line; a gigantic and dauntingly priced group of high end hookahs that are more about showing off than they are about smoking.
These hookahs are worth getting excited about, but you should bear in mind that these are still being improved upon. The first run of Royalty hookahs had some serious issues that Farida addressed in short order, but there are still some improvements being made. Some of the new models that are about to hit the US in one or two exclusive shops are going to blow your socks off. Look for some big news about to break in the Hookah world.
Simply put, this is the brand to watch and I anticipate great things from Farida in 2013.
Oh yea. Happy Thanksgiving.