Heat management follow the same basic concepts no matter what you are smoking, but each bowl is a little different. Today we are going to focus on the ever popular Tangiers Small Phunnel (here is a guide on how to pack a Tangiers phunnel bowl).
Even though the name implies that it's a small bowl, this bowl holds a good amount of tobacco and takes more charcoal to heat up than your average Egyptian bowl. The actual capacity varies from batch to batch as these bowls are hand made. Mine takes about 30g of tobacco if using a fluff pack, but it can take a full 50g if packed very tightly.
If you're dealing with a tobacco that doesn't take much heat to smoke, you can get away with two pieces of coconut charcoal and a wind cover. But, most tobacco is going to require three pieces of charcoal to get going in such a large bowl.
It's always important to start your charcoal on the edge of the bowl to avoid burning the tobacco, but it's even more important on the Tangiers small. Having such a wide bowl makes the foil a little more prone to sagging and increases the chances of the coals touching the tobacco and burning it. I usually go so far as to hang the coals a bit off the edge of the bowl. BE CAREFUL and make sure that you have a tray that is wide enough to catch any charcoal that might fall.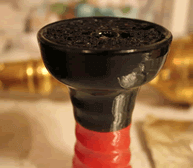 From this point it's pretty much the same process. Adjust the coals as necessary and don't move the coals inward until they start to get smaller. It's fairly similar to you're average bowl, but the design and size require a few extra considerations.
Happy smoking!