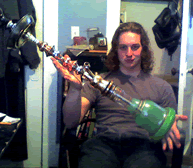 Brand and model: Khalil Mamoon Double Trimetal
Country of origin: Egypt
Height: 32?
Stock bowl: Small Mya ceramic
Stock hose: Long handle KM hose.
Rating (1 to 10): 9.5 I love this rig but there are some issue with it. Firt and formost the craftsmanship is beautiful but was a little sloppy at certain places. The edges of the copper inserts in the stem were rough and a bit sharp. I went over these to smooth them out a bit and to stop them from sticking into my hands every time I carry it. Second was in the hose port. There was a small bead of metal left over from the welding process. This stopped me from getting a good seal even with a grommet. It would dig into the grommet and stop it from going any further. I fixed this with a small metal file and now it works beautifully. Visually the hookah is stunning when polished up. The copper and brass portions will tarnish eventually but it's no different than polishing up my all brass rigs. The draw is beautiful and open. A beautiful and hefty rig. Sturdy and well sealed. My go to hookah.