https://www.youtube.com/v/5jlBs6mbMMw
I am always on the lookout for a new washable hose to fall in love with and the folks over at LuLava generously gifted me one of their own for review. Per usual, this is an entirely unbiased review. Even thought the items were provided by Lulava they don't get special treatment and the vendors/manufacturers I accept samples from are told this up front.
Now that the formalities are out of the way…
This hose is pretty damn cool. The mouthpiece is made from anodized billet aluminum, which means it's milled from solid stock rather than poured and cast. That translates into a piece with no seams or welds and it will never rust. The hose itself is made from food grade vinyl and is very resistant to ghosting. There is a bit of a plastic taste when fresh from the package, but that fades quickly and it is not strong enough to be a problem. You may not even notice it on your own hose.
My complaints all have to do with the size. As a fairly tall guy, the mouthpiece feels small in my hands. The weight is nice, but the size makes it feel like I'm smoking from a pen. Happily that is easily remedied with the addition of an extender.
You have to buy this piece separately, but it makes the mouthpiece into more of an actual handle that I can feel comfortable gripping. If you buy this hose I definitely recommend sending the extra cash on an extender. You can use multiple extenders on one hose to make it even longer, but that just ends up being awkward and unwieldy. Also, two extenders quickly turn this into a $50 dollar hose…
The draw is a bit tighter than I expected because the vinyl tubing is substantially smaller than the tubing in the other popular washable hoses. If you watch my video review you can see that I gutted a Razan hose so I could show you this side by side. A tight draw is not really a problem and doesn't have any effect on the flavor or the smoke, but it's something to be aware of. Those of you who love an effortless draw may not be pleased with one. It definitely works for me.
Last complaint. I swear. The hose is a bit shorter than my Razan and getting a longer hose costs extra. It's not so short that it's going to tip the hookah every time you pass the hose, but it takes a little more consideration. I do love the black vinyl, but I may just replace this with some food grade vinyl tubing from Home Depot or Amazon.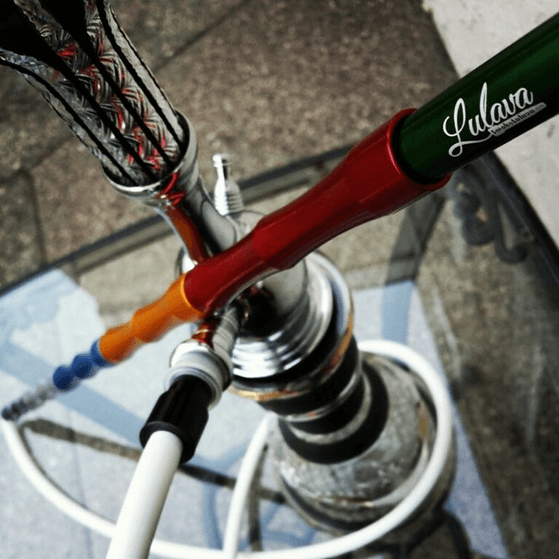 Back to the love. This is a great hose and it's nice to see a high quality, American made product get some well deserved attention. This is one hose that I am definitely going to keep in my rotation because I enjoy the look and the feel of the silver handle with blue extender. I'm also not crazy about an effortless draw and enjoy a little restriction, so this is pretty much a winner.
If you're interested in a LuLava hose they can be easily purchased and customized on the official LuLava website. There are a ton of color combinations, so I'm sure you'll be able to find a perfect configuration to match your personal style.