This is one of the first hookahs that I ever helped a friend pick out. She wanted something small, classy and beautiful. My mind went directly to the Mya Saray Bambino and I never thought twice about it.
I have always loved the unique and pseudo-antique look of this little work horse. There are very few other hookahs that have similar styling and they are pretty much all made by Mya Saray. It's one of the first hookahs that I ever added to my wishlist and I was not disappointed when we sat down and tried it out.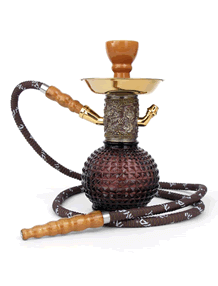 Let's start with the good. This hookah is a surprisingly good rig for the size. While there are many people who think that a bigger hookah will always give a better smoke have never smoked from a Bambino. The draw is tighter than many people prefer, but it's not thick-milkshake-through-a-tiny-straw tight. This just slows down your pulls a little bit. You can still get giant clouds of smoke from this tiny hookah. The short stature has no real negative effect on your smoke, but it will be a bit warmer than with a more average or large sized hookah.
The entire hookah can be unscrewed for easier cleaning and then it goes back together in short order. It's very easy to clean because there are no hidden nooks and crannies where nasty things can build up. You can easily reach and clean all parts of this hookah. Big bonus.
The materials used in this hookah are of good quality and I have never had any issues with rust or rot on the small Mya hookahs. The only things that I have seen break down are the little, rubber o-rings that seal some of the parts together. They seem to be a silicone material, which will last for a REALLY long time, but if you are taking it apart and putting it together on a regular basis there is a greater chance of these o-rings tearing.
The bad aspects of this hookah are on a short list. The glass base of this hookah is a very specific shape and size that makes it nearly impossible to replace with anything but an official Bambino base.
Of the two vases that I have had for this hookah, one had problems with bubbles in the glass. The first one was cracked and leaking because of an air bubble that essentially cause a hole in the vase. The second one was fine as far as I can remember and is still going strong. I'm glad that the vendor sent me a replacement when I told them that the first vase was useless.
All in all, I really like this little hookah and I think it's a great option for those of us who have limited space or want to have a hookah for travel. I would like to see a higher quality vase on this little rig, but the rest of this pipe is great and I'm happy with it.
7 out of 10