https://www.youtube.com/embed/5hEnHMfH678
Hey folks. Paul here with a review for you. This one is for Baja Blue by Social Smoke.
I'm smoking out of my Khalil Mamoon Halzone with my palace glass tip hose and a custom clay mini funnel bowl with two coco mazaya coals on top.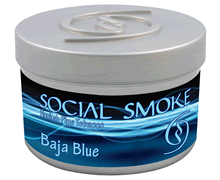 As you can see, the smoke production is pretty good. I've been smoking this one for a while, which is pretty standard for Social Smoke.
If you have ever tried their tobacco before, you know that good cloud production is definitely one of the common characteristics that you're going to find throughout.
The flavor of this one is a little hard to describe. I'd say it's a candied blueberry, blue raspberry flavor. It's interesting. It's very sweet, it's very persistent. The flavor lasts a long time after you exhale and there's a very slight minty chill.
This is a response to the popularity of Starbuzz Blue Mist, which for a long time was one of the most popular flavors on the market, and I think this is a good answer to that.
It's very different. It's not quite as sweet, it's not quite as sacreny, but it's definitely a candied type flavor.
I've smoked this one before and it feels like they might have changed the recipe a little bit since the last time I enjoyed this one. The mint is really low. It's just in the back note and the flavor is nice, it's clean, it's not super chemically, it's not heavily artificial, but it's definitely a candy flavor.
Just for information, because I've had this requested a few times by people, I'm smoking with my palace glass tip hose out of my KM Halzone with wind cover on top of my custom clay microfunnel with two coco mazayas on tops and it's treating me really well.
This is Paul once again for hookah.org saying thank you for joining us. If you like blueberry, blue raspberry, Starbuzz Blue Mist, make sure to check out Baja Blue by Social Smoke. It's got a thumbs up for me and I enjoy it from time to time.
Once again, this is Paul saying thank you very much for joining us and happy smoking.