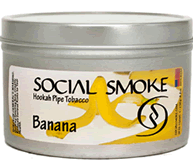 Banana is a really hard flavor to pin down and make accurate. In regards to hookah tobacco it is one of the most illusive flavors. The major problem with banana flavors is their similarity to artificial banana candies. The most notable one is banana runts. I am not a big fan of artificial flavors and will always take natural over candied so that is not a flavor I really want in a hookah tobacco.
Social Smoke Banana is one of the best banana flavored hookah tobaccos that I have had to date. The scent right out of the can has some similarities to runts candies so I was expecting this to be more of the same that i had experienced with earlier banana flavors.
The smoke is what I expect from Social Smoke tobacco. It's big and smooth. The clouds are thick and they will make the cloud seekers happy.
The flavor is much better than I was expecting. There was not as much artificial banana and actually tasted fairly real. That is not to say that there was no runt like flavor to be found but it was not the dominant flavor. Instead, I would say that the flavor was like a dried banana chip that was sweetened quite a bit. It was tasty and something worth a try but is a little too sweet for me.
7 out of 10. It was a great flavor and pretty much he best banana I have had to date. That being said, I think that the flavor has room for improvement. It's a little light, a little too sweet for me and still has a slightly artificial flavor. Check it out if you like banana. It's worth it.