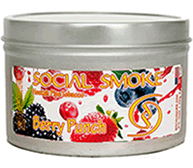 Social Smoke Berry Punch is a tasty blend described as "ripe berries with a fruity finish" and I would say that is accurate.
Right out of the can it smells like artificial fruit punch. You know what I'm talking about. The red drink you can buy by the gallon that has no real fruit juice in it.
The clouds are solid and exactly what you expect from Social Smoke.
The actual flavor is more citrusy than I would have thought it was going to be but it's really good. There is a bit of berry flavor there but it's not the dominant flavor. A little artificial strawberry and some raspberry come through once in a while. It's definitely a fruit punch style flavor and I think that this will be a great flavor for the warm summer nights.
7 out of 10. I like this flavor I just wish that the berry flavors were more dominant and that the flavor was a little less artificial. All in all I suggest picking it up and don't think you will be disappointed.