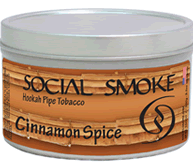 Anyone who has read my blog posts here can easily tell that I am a big fan of spice flavors. This flavor ranks pretty high on my list. Social Smoke Cinnamon Spice is one of the latest offerings from the brand it's it a winner in my book.
The smell on this one is distinctly cinnamon and it is backed by note of other spices. I can't easily pick them out in just the smell but I can easily tell that there is more going on here than just cinnamon.
The smoke is exactly what i would expect from Social Smoke tobacco. The clouds are large and the smoke is smooth.
The flavor on this one is much of what I expected with a little more. The cinnamon is dominant and the other spices are a present but a little hard to pick out. the flavor is slightly muddled but not in an entirely bad way. I would like the other flavors to be a little stronger as I think that would lend a little more complexity to the blend.
8 out of 10. While think this flavor is great it's not very complex and it was a little less heat resistant than other Social Smoke offerings. If you like spice flavors i suggest grabbing at very least a 100g pack of this tobacco. It's now a constant in my collection.