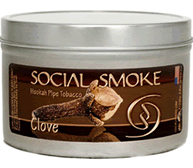 I love cloves. Not the crappy cigarettes the actual spice. It's a versatile and interesting spice that has a pleasing and warm flavor. Social Smoke Clove is a great flavor that I am a fan of. Can't much more up front than that.
The smell is exactly what you would expect. Strong clove with a very distinct sweetness. It's not complex or layered. It's called clove and it smells like clove.
The clouds are very large and the smoke is smooth. The flavor is a little weak for me. Trust me the flavor is not what I would call weak but compared to other clove tobaccos this is on the weaker end of the scale. I can understand why many people would prefer this level of strength. I know that some friends could only enjoy a punch you in the face level clove for so long. I think Social Smoke found a great balance.
8 out of 10. Personally I would prefer that this flavor was a little stronger so I docked it a point for possible improvement and one for cost. It's a bit pricey. All in all this is a great flavor and I suggest grabbing some. I love it all on it's own and it makes a great mixer to add a little spice to other blends. I have had awesome sessions while smoking 30/70 Social smoke Clove and Social Smoke Chai.