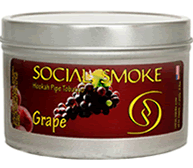 Grape is not a favorite flavor of mine but it's not something I detest by any means. I have some friends that really love grape so I picked up Social Smoke Grape and decided to give it a review.
The smell on this one is very much like grape soda. It's, without doubt, an artificial grape candy type scent.
The smoke is exactly what I expect from Social Smoke at this point. It's great.
The flavor I find a little lacking. It's weak and tastes of grape gum. It's sweet and quite enjoyable but it's not a favorite of mine. I wish it was a more realistic flavor and I really wish it was stronger. My friends enjoy it as well but agree with me for the most part. We all enjoyed the session and will be smoking this until it's gone but it probably won't be on the re-order list.
5 out of 10 on this one for me. It's definitely tasty and I suggest picking it up if the flavor of artificial grape is something you enjoy but for me it's not one I am going to get again. I feel that there are better grape flavors to be had that are more accurate and actually taste like grape.