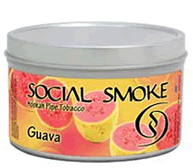 As you probably noticed, I have been absent from the blog for a bit. This is because my computer decided to punch in the self destruct codes and turn to frag. More accurately my GPU is defective. I am currently in the process of getting a refund and getting a new computer but I will be a little more scarce until that happens. I am relying on the kindness of others to get online and do my work. Sadly, the projects that are part of my career take up much of my limited time. Sorry about this and not being able to keep up with the blog as regularly as I had in the past. I'll get back to the old posting schedule as soon as I can and I promise to keep up with the giveaways. I know that's the only reason you people follow this blog 😛 Haha kidding.
All of that aside, I am still surprised by how good a lot of Social Smoke Tobacco flavors are. I recently ordered a few more and Guava was one of them.
The smell in the can is amazingly strong and fruity. It smells like gum and candy. I'm not sure exactly which gum it makes em think of but my girlfriend suggested Juicy Fruit and I think that's pretty accurate.
The smoke is big a voluminous as I have come to expect from Social Smoke.
The flavor is like tropical bubble gum. It's not the most natural Guava flavored tobacco you are ever going to find but it's REALLY tasty. This is not one for the traditional tobacco smokers but if you like fruity flavors this is a must try. Sweet and smooth with a slight citrus note and a distinctly tropical flavor. If you are someone who enjoys tropical mixed drinks guava is the juice that they use most often that is associated with that "tropical" flavor.
8.5 out of 10. It's a great flavor but I am a stickler for accuracy. It definitely tastes of guava but it's way sweeter than the natural fruit so it could be a bit more accurate. Other than that it's a great flavor though.