https://www.youtube.com/embed/f1_PM4gotcY
To try and tell you how excited I've been about the brand new Social Smoke Mango Habanero would be a fools errand. Hot peppers and mangoes are two of my favorite things to shove in my face and this has now become one of my favorite flavors to smoke. I've basically spoiled the end of the review but let me tell you why I love it so much.
The folks over at Social Smoke heard how much I love hot peppers and immediately wanted my opinion on their new tobacco. They sent me a sample and wanted my opinion, so I gave them exactly that. Everything was wonderful and my only note was that I could stand a little more spice. Well, they took that to heart and kicked up the pepper flavor a bit and finalized the flavor into something truly unique and wonderful. This tobacco uses real habanero extract, which is something that no other hookah tobacco that I know of has ever done.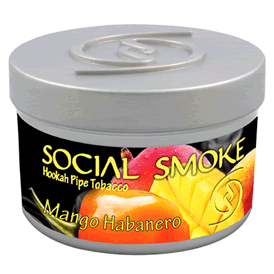 The smoke is everything I expect from Social Smoke. The clouds are huge, smooth and billowy. The texture is medium to light and leave the mouth feeling clean.
To draw out the spice I suggest adding a bit more heat than you might be used to. It's a very heat resilient tobacco, so don't be shy and you'll feel a nice, spicy burn in the back of your throat and even a bit on the tongue. It's wonderfully balanced with the natural and realistic mango flavor that I think might be the best mango flavor on the market.
This is now one of my favorite flavors and I'll definitely be keeping this in my stash.
I want to give a huge thank you to Mohammad Nadimi and the rest of the Social Smoke family for offering me the opportunity to try this flavor and to be even a small part of its development. I can't recommend this tobacco highly enough and I'm now an even bigger fan of Social Smoke as a company.