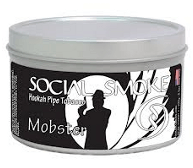 I'm not a big fan of energy drinks. I like some of them but I am not a caffeine person so I kind of avoid them. The few that I have tried in the past taste too medicinal and chemical for me to enjoy regardless of the caffeine. Social Smoke Mobster is blended to taste like a particular energy drink and I know a lot of people that love it.
In the can it smells exactly like an energy drink. Fruity with a citrusy bite and a slightly herbal note. The clouds on this tobacco are exactly what I expect from Social Smoke. Big and fluffy while being very smooth.
The flavor is tasty. It's similar to the smell without the medicinal quality that I don't like in energy drinks. It's sweet and tastes slightly of toasted sugar. There is not one distinct fruit that I can pick out but it's not really citrus. It's kind of hard to describe but it's spot on for a good energy drink.
8 out of 10. It's not the strongest flavor you are going to find but it's not super weak either. I would like it to be a bit stronger but I'm not complaining too much. While I am not a huge fan of energy drinks this is something I can enjoy because it's the good aspects of energy drinks without tasting like a kids vitamin. It's accurate to the name and the intended flavor. If you like energy drinks at all then I suggest picking up a can of Social Smoke Mobster. You will not be let down.