https://www.youtube.com/embed/fxGncHQHaHk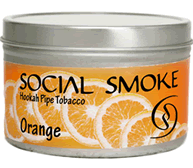 Social Smoke has treated me very well up to this point and I pack up every new flavor with a bit of anticipation. They are a modern style tobacco with very interesting takes on classic favors and lots of more rare flavors that few companies produce. Social Smoke Orange is the latest flavor I have had the pleasure of trying.
The smell in the can is like very sweet orange with a bit of a candied orange hint. It smells very nice and smells only slightly chemical. It's not off putting in the least.
The smoke is exactly what you would expect from Social Smoke tobacco at this point. Very puffy, smooth and BIG!
The flavor is a lot like the scent but tastes a bit more like orange candy. The flavor come across as somewhat… dry and powdery. It's hard to describe but it's slightly similar to an orange flavored candy powder. It's slightly sour but mostly sweet and is pretty good.
6 out of 10. It's far from the most accurate orange flavor I have ever had and it's more candied than I was hoping but it's very tasty. I suggest grabbing some of this if you like candy flavors.