https://www.youtube.com/embed/P0JeuGQf9UY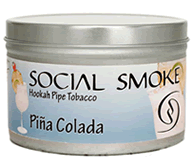 Pineapple, coconut and pina colada are all flavors that many people shy away from. For a long time I was the same way. These three flavors have the poor luck of being associated with sunblock in my mind. Most brands I have tried just end up making these three taste like the sickly scent of suntan lotion. Not Social Smoke Piña Colada.
The smell on this tobacco in the can is great. It's strongly of pineapple with a little coconut and does not smell very artificial. It's not over powering but you can tell that it's strong. someone may be able to smell it across the room but I have no problems holding it right in front of my face. Some tobaccos smell so strong you need to keep them at a distance.
The smoke is nothing new to report. The clouds are great and the smoke is smooth. I would expect no less from Social Smoke.
The flavor is a pleasant surprise. I was expecting something similar to my previous experience with this flavor but this was nothing like sunblock. If you stretch you can say that it reminds you of sunblock because of the flavors involved but it does not taste like it. It's smooth and mellow with none of that artificial chemical flavor I hate so much. One of the worst parts about the beach is having sunblock run into your mouth and eyes.
8 out of 10. Social Smoke Piña Colada is by far the best Piña Colada flavor I have ever smoked. This flavor is what I want from a good Piña Colada flavored candy.