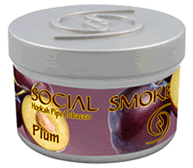 Plum is not the flavor that gets the most attention bu it's one that I like. I have always been a fan of Dr Pepper and many people forget that it's based on a spiced plum. Every time I smoke plum I hope to find a great base for a Dr Pepper mix.
In the can Social Smoke Plum smells great. It's fruity and rich with a slightly oily nature to the scent.
The smoke is great. The clouds are big and puffy. It's what I expect from Social Smoke.
The flavor is good. It's quite sweet and fairly accurate but tastes distinctly of plum flavored candy. It's rich and fruity with a good mouthfeel. It's not overly complex but it's something I think is worth trying.
8 out of 10. I think this is a great flavor all alone but it's not for everyone. Plum is a distinct flavor and it's not exactly what many people want from a hookah tobacco. All in all I think you should at least pick up a 100g can of this flavor if you are worried about not liking it. If you like Dr Pepper, get it.