[hookah_rating ingredients="Melon | Cherry | Raspberry | Pineapple"]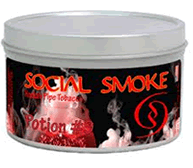 Social smoke is a brand that you should all be familiar with at this point. I have been working my way through the multitude of flavors that the line offers and the average review is definitely positive. Potion #9 by Social Smoke found it's way into my hookah recently and I was pleasantly surprised.
I thought that this flavor was going to be something overly candied and artificial because of it's name being a reference to love potion #9 which has an obvious association with valentines day which leads to thoughts of badly flavored candies and a pocket full of melted chocolate.
The smell on this flavor is nothing like what I expected. The official description is a "tempting mix of fresh Melon, tart Cherries, ripe Raspberries, and juicy Pineapple." I can easily pick out the raspberry and the cherry. The pineapple might be there but comes across as a generic sour and almost citrus flavor. The melon is in the background a bit and I am ok with that as melon can easily over power other flavors
The clouds are the standard from social Smoke at this point and are sure to satisfy the storm clouds seekers out there.
The flavor is just about the same as the scent. It's dominantly a blend of sweet fruit with a slight bit of sourness. I wouldn't say that the pineapple is really present in my opinion. The raspberry and melon and somewhat in the front while being supported by the cherry. It's not particularly artificial but is somewhat of a candy flavor which makes sense considering it's components.
8 out of 10. I really like this flavor and will be smoking it happily for a while. As always I would be happy if the flavor was a bit more natural and if all of the different flavors that are supposed to be a part of it were easily recognizable. It's worth checking out.