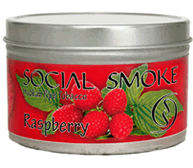 I have fond memories of picking raspberries and laughing at all the scratches and cut I would have from climbing through the bushes to eat the delicious fruit. They were worth every drop of blood lost.
To this day raspberries are one of my absolute favorite fruit/berries and hookah tobacco has a lot to live up to. Social Smoke Raspberry is a tasty flavor that straddles the line between realistic an candy like.
The smell on this one is of raspberry sorbet. It's very sweet and a little sour with a recognizable aroma of processed raspberries. The smoke is thick and the duration is great.
The flavor is pretty much exactly like the smell. My girlfriend says that it is exactly like Haagen-Dazs raspberry sorbet. I am going to have to take her word on that one until I actually get to try that particular sorbet but if it's anything like social smoke tobacco I am looking forward to it. The flavor lasts a long time and it never get cloying or overly sweet. The flavor lingers on your palette for quite a while and is very pleasant.
9 out of 10. A rare rating for me. This flavor is tasty, long lasting and fairly accurate. It's about as accurate as I could see someone making a raspberry flavor. I had to dock it a bit for the price and a little room for improvement but I really suggest you pick this one up. I plan on keeping this in my rotation for a while.