https://www.youtube.com/embed/_4OgphVBYf0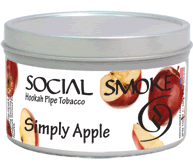 I have gone over apple in the past and if you have been reading my posts you know my displeasure with most attempts at accurate apple flav0rs.
This apple flavor is interesting but it's already one of the best apples I have tasted yet. Social Smoke Simply Apple smells kind of like a good red apple scented candle. I know that sounds a little unpleasant but stick with me here. That's the best approximation I can give you that I think the average person will understand. It smells kind of like apple flavor concentrate that is used in brewing and food preparation. It's not too artificial and it's very sweet.
The flavor is exactly the same. It's a little cloying at times and reminds me of being in Yankee Candle in Boston every once in a while. one of my friends that is not a big hookah fan actually found the room note pretty unpleasant but that guy is a big biker type so what the hell does he know about pleasing scents other than beer, bourbon and cigars? Not much. Haha! It's good to be aware that some people may not like this flavor and find it's scent to be a little to strong for them. It's always good to be considerate of everyone around you.
8 out of 10. For an apple this is pretty close to the top of the list. On the scale of all tobacco it's decent and tasty but a little too sweet for me sometimes. I am looking forward to mixing this one with othe flavors and enjoying a smoke the is easily recognized as actually being an apple flavor for once.