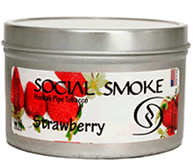 I have made posts before about my feelings on strawberry hookah tobacco. I have yet to find a strawberry tobacco that was accurate but that is understandable. I did not expect anything realistic in an accurate way when I first got my hands on some Social Smoke Strawberry. What I got was pleasant and tasty.
The smell on this is a candy strawberry. It's a lot like strawberry bubble gum. If you don't expect natural strawberry you will not be surprised by the smell. Natural strawberry is one of the hardest flavors to replicate. The flavor is pretty much identical to the smell. It's light but it's tasty. I would not equate it to a fresh piece of strawberry bubble gum but it's like the after taste from the gum after you spit it out. It's sweet and artificial but not chemical.
So far with social smoke I have experienced great clouds from all flavors and strawberry is no different. Big puffy clouds that block light and make it hard to see friends.
7 out of 10. Dinged for strength of flavor more than anything. The other points are for price and one for improvement. I don't give out tens lightly. If this flavor were stronger I would love it. It's one of teh best strawberry flavors I have had yet but there is still a lot of room for improvement. If you like strawberry and are nto expecting something that tastes like the actual fruit this is a great option for you.