https://www.youtube.com/embed/IAA6OzIlP7o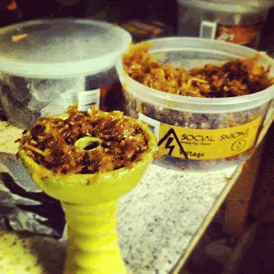 Social Smoke hasn't been around for a too long but they did not waste any time jumping into the idea of special flavor blends. Voltage is supposed to be a blend of lemon, watermelon and amaretto, which is a sweet almond flavor.
The smell on this one is very lemony with a slightly nutty and savory note. There is not much watermelon to speak of at all and the lemon is clearly dominant (special thanks to Hookah402.com for the above picture).
The clouds are exactly what I would expect from Social Smoke. I've said it before but, this is a solid modern tobacco that will satisfy the cloud chasers.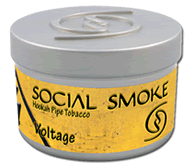 The flavor is damn tasty. It's mainly lemon with a slight undertone of watermelon candy. There is something else behind that flavor that I can't quite place. It's obviously the amaretto because it's a soft and rounded flavor that balances the lemon a bit. I don't think it's distinct enough to compete with the lemon though.
8 out of 10. I think the concept of the flavor is great but I think the execution could be a little better. the lemon takes center stage and does not give it up. There is very little watermelon to speak of and the amaretto is over powered as well. If the lemon was dialed back a bit and the sweet almond and watermelon could actually present themselves I think this could easily become one of my favorite flavors from Social Smoke. As it stands it's already great and I strongly suggest picking some Voltage up.