I am a bit of a hookah hermit. I sit in my house while enjoying my collection of pipes and tobacco with my friends and loved ones. I rarely venture into the jungle of lounges and bars because, lets be frank, I know how to pack a damn good bowl and I'm reluctant to spend extra money for someone else to do that for me. For this new series of hookah lounge reviews I decided to start local. I'm currently sitting at The Hookah Lounge in Glendale, CA.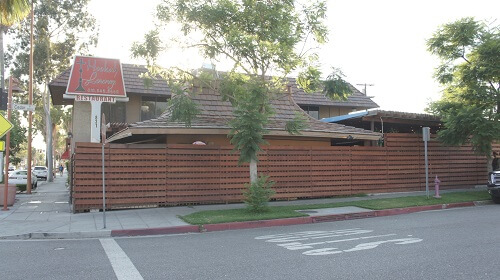 You don't need a flashy name if you're confident in your hookah game and this lounge embodies that. The parking is a bit tight but there is a fair amount of street parking without meters.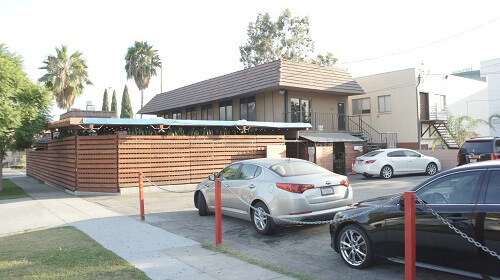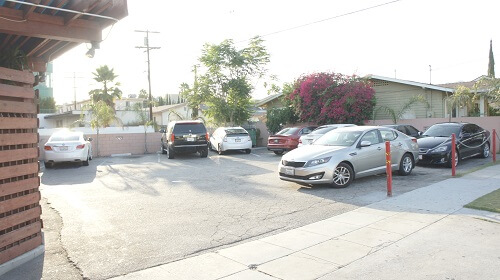 Lounge Atmosphere
Entering the establishment I was greeted immediately and given a wide selection of seating options. Including a patio with a few different seating arrangements and an indoor area near the bar. I chose to sit outside in their patio area, which is well shaded and clean. The lounge sits on a fairly busy street, so there is a bit of noise but it's nothing I find obtrusive. The patio is open and provides a nice breeze that is enough to keep the air fresh but not so much that I'm worried about my coals.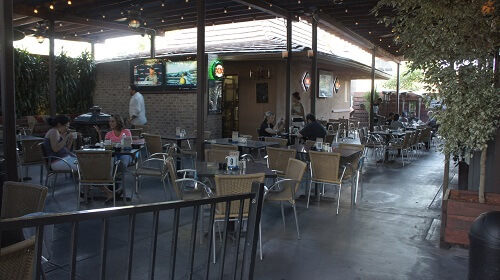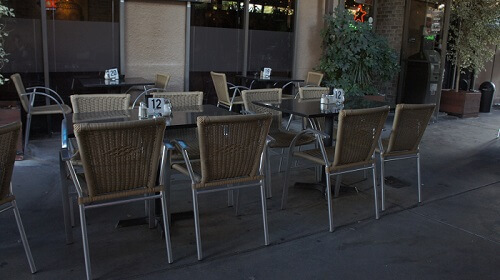 The environment is not the most luxurious but the tables are well spaced to avoid feeling like your crammed on top of the other guests. It's clean and well maintained with good lighting and good music. The speakers are loud enough to be heard and enjoyed without feeling like you have to yell during your conversation. The music selection is varied and they don't censor their songs, so don't be surprised when you hear a bit of cursing. It's definitely not something I mind but it's worth noting for some of the more sensitive smokers among us.
The music can get a bit loud inside. I foresee some half heard conversations at night when this place really gets busy, which it definitely does. That being said, I like the interior. It's a bit more plush than the patio and has that lounge feel that many people are seeking.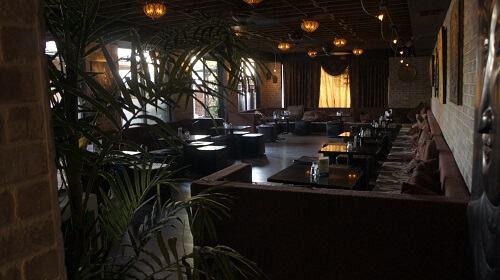 There is free and open Wifi without a password and a decent connection for those of us who like to bring our laptops. Sadly, there are very limited outlets and those fill up quickly but I suggest leaving the computer at home and just enjoying your session unless you're a nutjob like me and decide to do on site reviews.
Hookah & the Service
I sat down a little after 4pm, which is during their happy hour block. That means the prices were reduced and I could choose from their list of "normal" flavors, "exotic" flavors (mostly Starbuzz), Al Fakher and house blends for a grand total of $12 with $5 refills. That's more than reasonable and I've rarely found a lounge offering better pricing. Coming from Boston originally where a hookah session can cost as much as $30 I found this refreshing. Even during regular hours the prices are reasonable with normal flavors at $12/$5, exotic at $20/$10, and AF at $16/$7. That is pretty standard for this area. I chose Peach Queen from their list of flavors and was very pleased when my hookah arrived only a few minutes after I ordered with 4 coconut coals sitting atop a classic Egyptian bowl.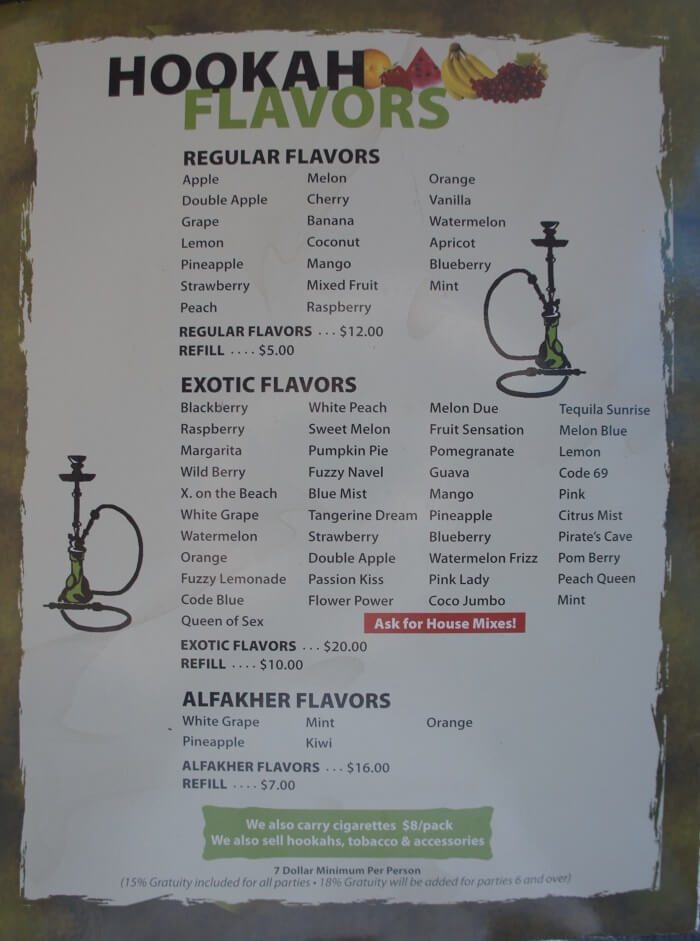 The pipe was well cleaned other than a little staining in the hard to reach corners of the vase with no ghosting that I could detect. They have opted to use food grade hosing with an acrylic mouthpiece in place of what many would consider a traditional hookah hose. This means that they are easily replaced, infinitely cleanable and completely rust free. The hosing was a little ragged but solidly put together and well sealed. Every pipe I saw was either Magdy Zidan or Khalil Mamoon with not one bad rig in sight.
I'm still smoking the same bowl with no refills over an hour later as the bowls are obviously well packed and their coal service is top notch. The second my coals started looking a bit small they were immediately replaced with 3 fresh coconut coals. The attendant was fast efficient and obviously well trained in keeping a bowl smoking properly. He pulled the bowl off the pipe with his bare hands, dropped the old coals in a basket, blew a puff of air through the bowl, replaced it and loaded new charcoal before I could even say thank you. The session continued without a snag and free of burnt or off flavors. I have full confidence that this bowl will be smoked right to the bottom with no wasted tobacco. Many other lounges actually charge per round of coals instead of letting the bowl get fully cooked. I hate that practice and I'm very pleased with the hookah service here. I really appreciate that they provide tongs.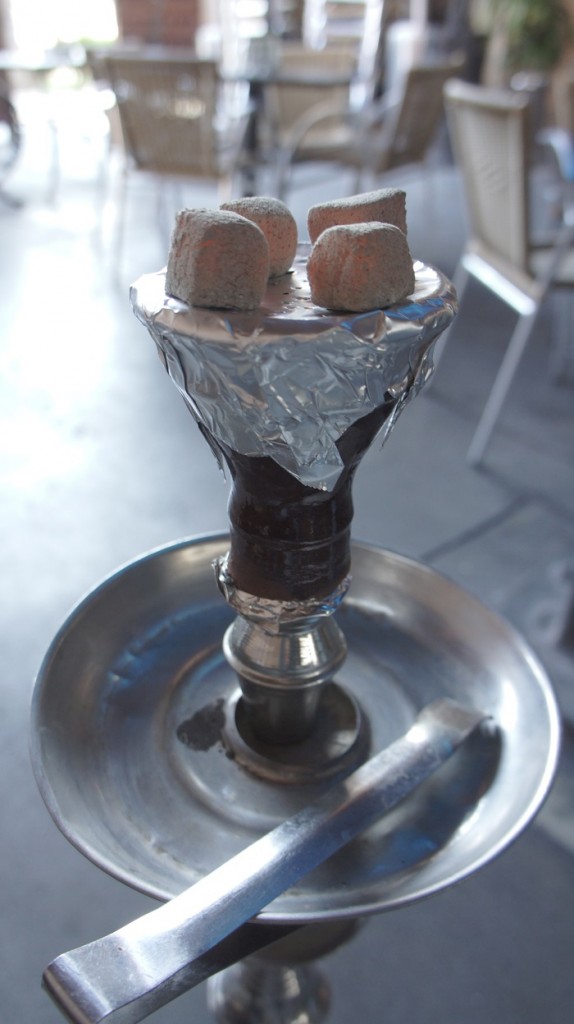 I also know many places that refuse to let the customers adjust their coals and this usually results in an overheated bowl in short order. I wish I had a wind cover to fine tune the heat but I understand that the average customer would just end up burning their bowl and possible hands, so it makes perfect sense. Besides, they provide plenty of coal to make sure you have ample and properly balanced heat without the wind cover.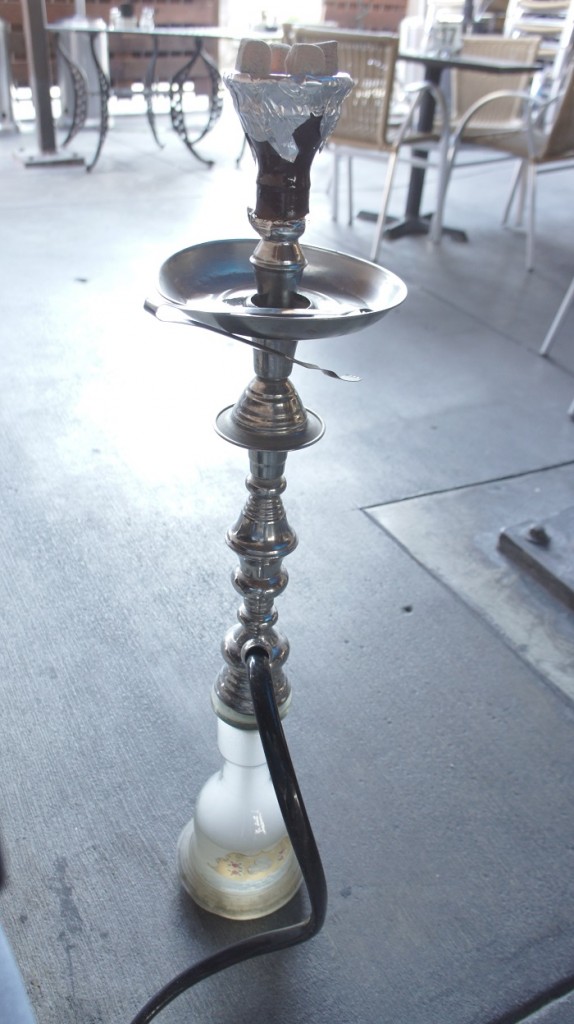 Food and Drinks
On top of the hookah they offer a wide selection of food from traditional Middle Eastern and standard bar fare to personalized pizzas and diner style sandwiches. The food is all reasonably priced and well prepared. Drinks include a limited selection of alcohol (beer, wine, and hard liquor) and a good selection of teas, coffee and soft drinks. The tea, coffee, beer and wine are reasonable but the hard liquor prices reminded me why I don't go drinking in Hollywood very often. I opted for the hummus and found it tasty with just the right amount of oil served with warm pita. Very pleasing.
Only Complaint
My only complaint is that the table service was lacking. It was quite a while after I ordered my hookah and drink that I was asked if I needed anything else and the waitress almost walked away before I could order my food. I never got a refill on my water. It's not a huge deal and I enjoy being able to enjoy my session with little disturbance but I am thirsty and would likely have ordered more had I been asked.
As I sit here and pull the last few puffs from my dying hookah I am quite happy with my experience. I can confidently recommend The Hookah Lounge in Glendale, CA for a good smoking experience.