You asked for more fruit bowls and this week it is the pineapple on the chopping block. I'd like to start this article by giving you a few warnings. Firstly, this process is messy as all get out. Expect to spend as much time cleaning your work space as you do carving this fruit bowl. Secondly, I've never been able to get good smoke out of a pineapple bowl without wasting a huge amount of tobacco and a huge amount of charcoal. Now that we have that out of the way, let's get to the heart of the article.
[rating_youtube src="//www.youtube.com/embed/nlSwNx9enY4″ width="620″ height="349″ frameborder="0″ allowfullscreen="allowfullscreen"]
Go get a ripe pineapple. The ripeness makes a big difference in the very slight amount of flavor that this bowl will add to your session as an under ripe piece of fruit it's not going to add anything at all. Remember that this also means there will be more juice to deal with but the flesh will be easier to carve and that sentence makes me sound like a psychopath. I went to Whole Foods because I am a posh serial killer.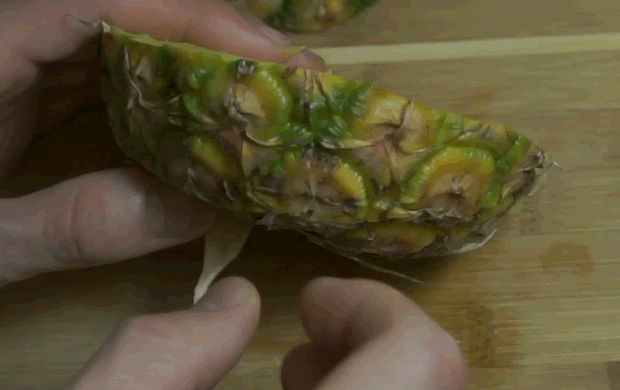 Where most people dig out the center of the pineapple and make a gigantic bowl I just use the bottom of the fruit to make a bowl that is very wide and shallow. The capacity is still huge but it doesn't waste a huge amount of fruit and still ads the same amount of flavor, which isn't much at all anyway.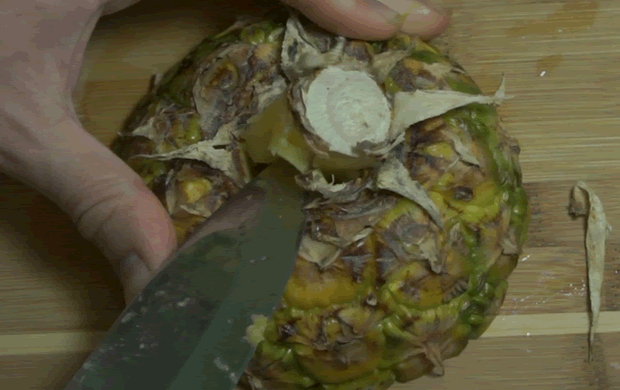 I then use a knife to cut out the core and make way for the top of the stem. This is a slow and careful process as it uses a knife in a way that could easily result in injury. Please be careful and take your time. Hookah is about relaxation, so don't rush it and then rush yourself to the ER.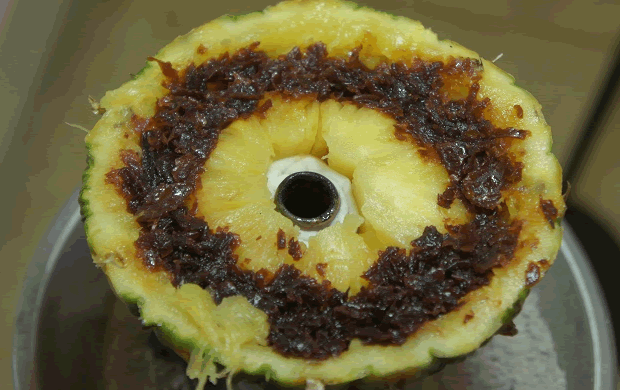 Now comes the very messy part that I almost want to suggest performing in the sink to aid cleanup. I use a spoon to scoop out a trough similar to what you find in any funnel bowl. The piece of fruit is fairly flimsy but the fibers in the flesh can be tough to get through, so go slowly and don't get too upset if it falls apart. Once you have that done you can pack the bowl and put it on your stem. I suggest waiting until the bowl is on the stem to deal with foil to offer more structure upon which to wrap. As you can see above, I used a wet paper towel as the grommet because the irregular shape of the fruit's flesh made it necessary to get a good seal.
Now that it's foiled we can poke some holes. I treat it like any other funnel bowl and just poke holes over the trough. That makes for pretty good airflow.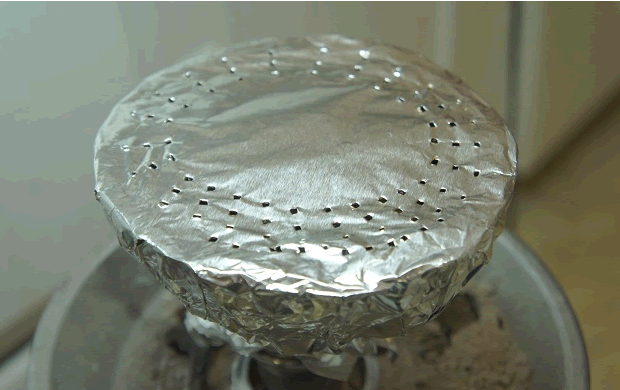 Lastly, pile on the heat. This bowl is too big to work with a windcover so you're relying on only the heat from the charcoal to get this smoking. Additionally the juice from the pineapple will be constantly fighting to put out the coals, so they require regular flipping. You can see that I used 5 CocoBuzz 2.0 charcoals and it still wasn't enough for good smoke. One more may have made all the difference on this particular bowl.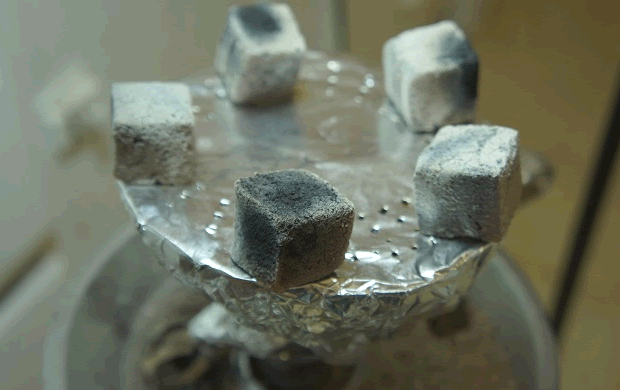 Was it worth the time, effort, money and mess? I think not. If you're dead set on making one of these for a party I hope that my tips have been helpful. Make a Pineapple bowl hookah for the fun and kicks just don't expect monster clouds. Enjoy!