It's that time of year again. Fall has more distinct flavors associated with it than any other season and I love it. I am from Thanksgiving-land, AKA New England and the flavors of fall are burned into me. It's written in my DNA to love pumpkin pie spices! So, what new hookah tobacco flavors have I fallen in love with for fall 2012?
Nakhla Bahraini Apple:
Wow. How did I miss this one until this year? Bahraini Apple is a lighter version of the famous Nakhla Double Apple and it's one of the best apple flavors on the market. The aniseed notes that make DA so loved or hated are still present, but it's much more mellow and pleasing to the average person's palette. This is the spiced apple flavor that the others wish they were.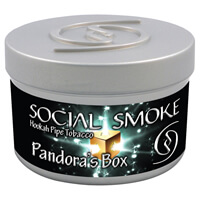 Social Smoke Pandora's Box:
This blend made by Social Smoke is one that I fell in love with when I mixed it on my own with Cinnamon Spice and Cherry and Iam happy to see it blended up for me. The combination of sweet fruit and spicy cinnamon is relaxing and reminiscent of holidays sweets. Well worth a taste.
Desi Murli Spicy Apple:
There is a lot going on in this tobacco. This is a beautiful combination of a moderately realistic apple flavor, a myriad of baking spices, subtle herbal notes and a rich earthy tobacco presence. This is a DM flavor and it's STRONG. This is not for everyone as it has a high nicotine content and strong tobacco notes. Personally, I love flavors like this. This is one apple tobacco that is not drowned in aniseed, but it's swimming among plenty of other flavors that will keep you guessing.
Tangiers Birquq Ololiuqui:
This has quickly become one of my favorite flavors regardless of the season. This tobacco (Tangiers generally) is a strong and smooth root beer like flavor with an old style spicy character that I love. Don't expect this to taste like A&W root beer. This tastes like the real deal and it bites like it. There is a complexity here that I rarely find in modern tobacco with layers of spice, floral notes and herbal qualities that I find very warming and relaxing.
These are my top picks for fall flavors this year and I hope you enjoy them. I'll be flying back east with at least two of this packed in my luggage for October in Salem, MA. I have to have the best Fall tobacco if I am going to spend October in my old home; the Halloween capital of the world.
What are your Halloween plans? What's your favorite Fall tobacco? Send me a shout out if your going to be in the Salem area!