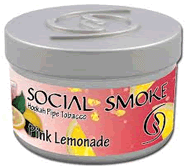 For a long time Fantasia Pink Lemonade was the flavor to have. It was one of the most loved flavors along with others like Starbuzz Bluemist and Layalina Raspberry. Social Smoke has decided to take a shot at this popular flavor and I think they did a pretty good job.
The smell on Social Smoke Pink Lemonade is very similar to pink lemonade flavored drink mix powder. It smells sweet and citrusy with a fruity note.
The clouds are just as large and smooth as they are every other time I smoke tobacco from the Social Smoke brand.
The flavor is pretty good. It's similar to the scent with a less crisp flavor an a bit less of a citrus bite. I wish the lemon was stronger. I love strong flavors so I would be happy to take a drag and feel my mouth pucker from sourness. Most sane people would not want that. The taste is very similar to a weaker powdered drink mix
8 out of 10. I think this is a good flavor and I think you should give it a try but I want it to be more lemony. I want the flavor to be a bit less artificial and more lemony. All in all I think Social Smoke Pink Lemonade is a great and i'll be smoking this one for a while.