Most of us love the Tangiers bowls and their innovative designs that have been often copied, but rarely duplicated. The biggest complaint I hear and have is that even the Small Tangiers Funnel is too big for the average smoker. Well, now there are some new bowls hitting the market which will solve this problem.
Eric of Tangiers is currently testing a new bowl that has come to be known as the Pico Funnel or the Nano Funnel. For those of you that are confused by the names, "nano" is the metric prefix of scale that is one step below "micro". This name indicates that this bowl is smaller than the rare and heavily hyped Tangiers Micro Funnel. "Pico" is one step further down on the scale, it's smaller than nano and sounds cool while avoiding lawsuits from Apple.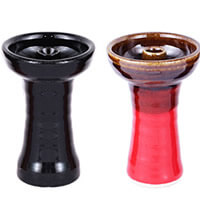 These bowls are rumored to be up for release in the net couple weeks and there is already a big buzz in the hookah community. Eric of Tangiers is known for being very picky about his bowls and what he releases under his name. This will be the first time that a Tangiers mini funnel is going into full production. I predict a wave of orders and a fairly quick shortage of these on shelves unless Eric went well beyond the demand for them, which I doubt. Eric knows supply and demand and play with it well. The original Tangiers Micro Funnel is a good example of this.
If you want a specific color or want to be one of the first owners of this new bowl, you probably shouldn't hesitate. My only concern is that they may be slapped with a ridiculous price tag, the same way that the Micro Funnel was. If this is the case, I suggest waiting. The price will drop. It always does. Those who wanted a Tangiers Mini Funnel so badly that they spent upwards of $50 dollars to get one are probably kicking themselves now.
I have not been able to get my hands on one of these new bowls yet so I am going to reserve all judgment and opinions until I do. I know that if it is priced similarly and performs similarly to the Tangiers Small Funnel then I am going to be quite happy with this new product. I'll try to get you folks a real review and impartial opinion ASAP.