Minty goodness is my favorite way to refresh the taste buds after smoking and reviewing countless flavors but what are my favorite mint flavors? There may be more mint tobaccos to choose from than any other flavor thanks to some brands having multiple different mints, which can get a bit overwhelming. Now I'm here to clear up the confusion and present to you my top 5 mint shisha tobaccos.
5. Al Fakher Mint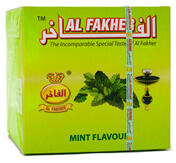 I enjoy Al Fakher mint but there are some hardcore fans out there who needed to see this on the list to avoid going berserk. This gum like mint is extremely popular with a sweeter flavor profile than many of my other top picks. This makes it very approachable and enjoyable while still kicking with a potent blast of menthol. Above all else, this is a great mixer. It doesn't clash easily with other flavors thanks to the fairly simple flavor profile and I have smoked through my fair share of Al Fakher mint just mixing with it.
4. Nakhla Mint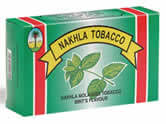 The classic. At one time the mintiest and most intense cooling tobacco on the market, Nakhla Mint has been eclipsed by the next two contenders but the quality of the flavor is still stellar. This is a potent mint with a more natural flavor than something like AF Mint. There are grassy notes with hints of something deeper and more robust. This is not a bright and clean mint as there are elements that remind me of chewing mint leaves. A must try for any mint lover.
3. Nakhla Mizo Mint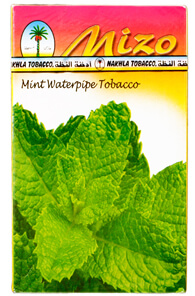 A more modern version of the classic Nakhla mint with a juicier and sweeter recipe. Most of the same properties that make me love Nakhla mint are found in Nakhla Mizo mint with some more candy like notes and even more cooling effect. this is probably the second coldest tobacco on this list of mints and it's something I always keep on hand.
Also see our Top 5 Nakhla Flavors article.
2. Tangiers Cane Mint
One of the strongest mint flavors on the market, we all knew Cane Mint by Tangiers had to make an appearance on the list. This is a blisteringly cold, candy cane style mint with a robust sweetness, extremely potent flavor and great smoking properties.

My only complaints are that it's hard to find and quickly loses flavor once opened. The popularity of this flavor and the small batch sizes make this a scarce flavor that gets snatched up quickly. Regarding the flavor fading, it's not immediate and it does have some shelf life but there is a distinct drop off if left alone for too long. This is the IPA of the hookah world. Don't age it. It's at it's prime now. Smoke it now!
1. Social Smoke Mint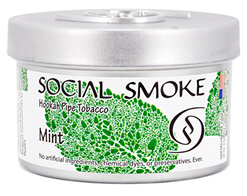 Social Smoke mint became my favorite mint quickly after my first session after this flavor came out. It is beautifully accurate with notes of actual mint leaves, a bit of earthiness and just the right amount of sweetness to balance it all out. This is my #1 best mint shisha flavor because I think it stands alone and shines with nothing else in the bowl. It's a good mixer as well but this flavor offers a depth and complexity most mints can't touch making it worth smoking all by itself.