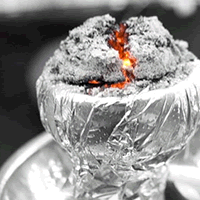 To get the most out of your hookah it's important to get everything you can out of your tobacco. When using deep funnel bowls, and other bowls designed to retain the molasses and not let it run down the stem, you will often be tired of a session long before all of the tobacco is cooked through and there is still good flavor. When this is the case you can actually stop and smoke the same bowl the next day.
This is most easily done with very strong flavors and heat resistant tobacco that has been packed very densely. You will hear about people doing this the most with Tangiers tobacco but other very strongly flavored tobacco can work as well. All you have to do is not clean out the tobacco from the bowl or remove the foil and set the hookah up the next day and smoke like normal. It's no different than adding a second round of coals in the first sessions. So long as there is still good flavor to be had you can keep smoking.
Right now I am sitting outside smoking a bowl of Tangiers Kashmir Prune that I smoked yesterday with one round of Coconara coals and it's smoking beautifully. Big clouds and lots of flavor. The fruit notes have mellowed a bit but the spicy floral notes of the kashmir are still nice and strong. Fruit flavors are more fickle and delicate to begin with so some flavors won't work as well but it's a matter of experimentation to find out what works.
This way you can avoid wasting large amounts of tobacco when using the deep funnel bowls. This is one of the reasons that having a few different bowls is a good idea. That way you can stop smoking one if you get bored, pack up another and come back to the first at a later time.