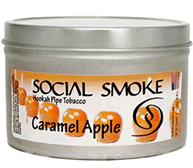 Social Smoke is a solid brand and they are one of the youngest brands on the market. In a short time they have carved out their own plot and set up a solid foundation of flavors. These flavors range from the basics like lemon and strawberry to more elaborate flavors like caramel apple.
When I first smell this tobacco it's almost entirely caramel and creaminess with a hint of fruity apple in the background. This didn't worry me the first time I ever smelld it as I know caramel flavors tend to be a bit light.
It turned out I was right. The flavor is much more balanced. It's still dominantly caramel but the apple comes through nicely. It's a red apple flavor with a bit of an artificial edge but it's not a bad flavor. I'd say that this is a combination of their standard apple flavor and their dulce de leche. There is a distinctly cream aspect to this tobacco that I really enjoy and kind of coats the palette.
The clouds are what I expect from Social Smoke. Big and puffy with a fairly light texture. There is no nicotine buzz to speak of but I don't get buzzed easily from low nicotine tobacco. Like everything else from Social Smoke this is an unwashed tobacco but the tobacco is a very light Virginia.
7 out of 10. All in all I'd say that this is a good flavor to relax with. The flavor is a strong medium and fairly accurate. A good flavor for the fall and winter.