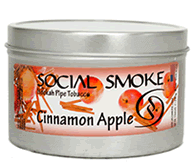 It's almost Halloween and here in Salem, MA and it's a fairly big deal. I am a strong believer in enjoying food, drink and other indulgences that match the season. That is why I am currently smoking a bowl of Social Smoke Cinnamon Apple.
This flavor is described as apples sprinkled with cinnamon and I would say that is a fairly accurate description. I love spices and I believe that they pair very well with, what many refer to as, forest fruit.
Social Smoke Cinnamon Apple smells a little bit like a candle in the can. I have smoked Social Smoke Simply Apple in the past and I got the same scent that is a bit disconcerting. My experiences with Social Smoke have taught me to not assume that the flavor will follow the smell.
The smoke is good. I am smoking out of a new bowl that I have never used before so I'm not getting the huge clouds I normally would but the potential is there. I am using a little less heat than I think this bowl and tobacco combination should use because I am being careful not to over heat it and mess up the flavor.
The flavor is good. It's a medium-light flavor with a distinct apple presence and a nice cinnamon note. I think that the cinnamon could be stronger but I am a huge spice fan so take that with a grain of salt. The artificial scent does not come over into the flavor much and all in all I think this is a great fall tobacco.
7 out of 10. I would really love to see more of a cinnamon flavor in Social Smoke Cinnamon Apple but it's definitely present. They say that each one is equally represented but i think it tends a little bit more toward the apple. It's also a weaker apple flavor than Simply Apple but I think that can be excused. Both of these flavors at 100% might be a little much for some people. I like this tobacco and recommend you try it out.