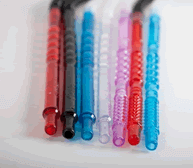 High end washable hookah hoses are a fairly new addition to the hookah world but the disposable hose is not. They have been around for a long time but have always been flimsy and poorly constructed with a distinct plastic taste and a fairly restricted draw. There are some new products on the market that break this trend though.
The first disposable hose that I considered worth the money was known as the Nuhose. For only a few dollars you got a hose that had no plastic taste whatsoever and a really nice draw. They were not the prettiest hoses on the planet but they did the job and were great options for parties, lounges or any other setting where you might want to dispose of your hose after someone uses it. That being said you don't have to throw them away after one use. Because they are made entirely from food grade plastic you can wash these hoses and use them over and over. They won't fall apart and there is no glue to worry about breaking down. They seal entirely with pressure. This means that the NuHose was a great option for someone who wanted a washable hose without breaking your bank. I have been using mine since they were first released and have very few complaints. Sadly, these hoses are no longer in production.
In comes the Fancy Hose. Made by the same factory with the same process and materials. The only difference is the name and the logo on the mouth piece. Pretty widely available and very affordable, these hoses are a great investment for people who want to devote each hose to a single flavor or style of flavor. For the price of a nammor hose you can get 6, count 'em, 6 Fancy hookah hoses. That's enough hoses for just about anyone.
If you are looking for a gorgeous hose that will impress all who see it, there are much nicer looking washable hookah hoses on the market. But if you just want pure function the Fancy Hose will do the job and do it well. Check them out and let me know what you think?