https://www.youtube.com/embed/F_pMWWGhQ9I
I really like the Social Smoke Arabian Nights. This is one of the few times that I will make my opinion on an item very obvious right from the beginning.
This tobacco is supposed to be an Arabic coffee flavor with hints of cardamom. I love Arabic/Greek/Turkish coffee and in traditional Arabic coffee cracked cardamom pods add an interesting and spicy note to the drink that is very distinct.
The smell on this tobacco in the can is very nice. It's distinctly coffee like with a spicy flavor and very tasty smelling note that is similar to cardamom.
The smoke on this tobacco is what I expect from Social Smoke tobacco. Big and billowy. This smoke has a bit more texture than the average Social Smoke blend but it's definitely smooth.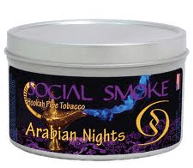 The flavor on this tobacco is great. It's like a sweet and spicy coffee and chocolate flavor (also see Nakhla Coffee and Starbuzz Arabian Coffee). One of the times I smoked this with a regular smoking buddy he was quite convinced that it was a chocolate flavor. The spice is a little subtle but I think it's just about right. It's strong enough that you notice the spice and can pick out some of the different characters that could be cardamom. I wish that the flavor was a bit more of a bitter coffee and that the cardamom was more pronounced. I smoke cardamom tobacco fairly regularly so my tastes tend toward strong and robust spice that many might not enjoy so take my opinion with a grain of salt.
8 out of 10. If it were a little stronger and had a more pronounced cardamom flavor I would rate it a nine. Being described as a coffee and cardamom flavor means that I think it's a little inaccurate. As a stand alone flavor without a description I think it's great but still wish it was slightly stronger. If this had distinct tobacco flavors this would be one of my top tobaccos on the market.